"This is something that he has to do, that he will do, come fame or oblivion" –Chris Knox
"Experimental and avant-garde…. This will challenge your perceptions of what constitutes music and open the mind to new possibilities of sounds that surround us – muzic.net.nz"
A period when I travelled on my OE, took up the banjo, and branched out further, into video-making and ethnomusicology.
I mostly lived overseas, first in Melbourne, Australia, then Busan, South Korea, then Okinawa, Japan. New influences informed my music, and  I reinvented myself as Dave Black .
I said goodbye to Wellington, with
"The 50-minute piece of music, broken down into six movements, was performed live over a few nights for the Fringe Festival in 2005; the group taking out the Best Music Award.

"It was stunning. Discordant guitars were choked, drums clattered and crashed, voices mingled with percussion and keyboards – but this form of free-improvisation had a structure to it. It had movement, it had a plan. It was a great beast of a song that writhed and wriggled and often managed to run downhill, away from the players – in the best possible way.

"Here, the show has been recorded onto a CD for posterity – and it begs discovery. It's an intense listen – but that's to be expected from a group of players who took their name from one of John Coltrane's toughest listening albums." – Simon Sweetman
…but by then I'd had enough of Wellington, and moved across the ditch, to Melbourne, Australia. The result was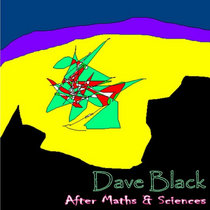 An
Australian
novel for the ear – a double album recorded in
Melbour
ne, Victoria, and
Sydney
and
Gosford New South Wales,
by
Dave Black
with
Cylvi M,
Mike Kingston
and
Francesca Mountfort
(
2005-2006
)
"Dave Black's debut release (and a re-birth, if you like, for David Edwards) is as much a post-modern piece of Performance Journalism as it is a static batch of "songs" or tracks, After Maths & Sciences is a pleasing challenge of an album. It lives up to the cliché of presenting something new with each listen,"– Simon Sweetman
In Melbourne I bought a banjo, and started to incorporate it with field recordings and electronica, using a cassette dictaphone and the laptop technology of the time.
This was still before social media or music streaming sites, so again I self-released it on CDR… one of the last albums in that format before it became obsolete.
Returning to NZ I spent a year in Nelson, in the South Island , and studied at the Nelson School of Music (finally learning some 'conventional' technique).
…by this point I was 26, had played in an award-winning 18-piece punk symphony and as an international artist at the Liquid Architecture festival in Brisbane, yet could barely play a basic tune by ear).
I played in gigs down the West Coast and in Lyttelton, and at the Lines of Flight festival in Dunedin.
I next spent a year in in Busan, South Korea, teaching English as a second language (to fund my travels), and making pieces from field recordings
I visited Thailand,Japan, Vietnam, and Mongolia
and from there took the train across Russia, then spent a few months travelling in the Balkans
Russia & Eastern Europe
I returned home to New Zealand, aged 30 and a little more worldly.
I spent the next couple of years back in Wellington. The capital's experimental music scene revolved around the venue Fred's (a precursor to the Pyramid Club)
…but i still had itchy feet, so said さよなら to Wellington again and moved to Okinawa, Japan.
to spend a year teaching English on the JET programme.
I lived in Okinawa,
then travelled to mainland Japan, where I caught up with fellow NZ expat musician Nat da Hatt. We spent six days hiking across the Japan alps,
and collaborated on an album of field recordings – this time adding psychedelic guitars
the Golden Pagoda, Kyoto, Japan, 2012
In July I returned to Wellington for a flying visit
& then moved to Australia for a second time, this time to Western Australia for the next couple of years…