I played solo acoustic at the Fernside Gardens Open Day on Sunday 16th February, 11am.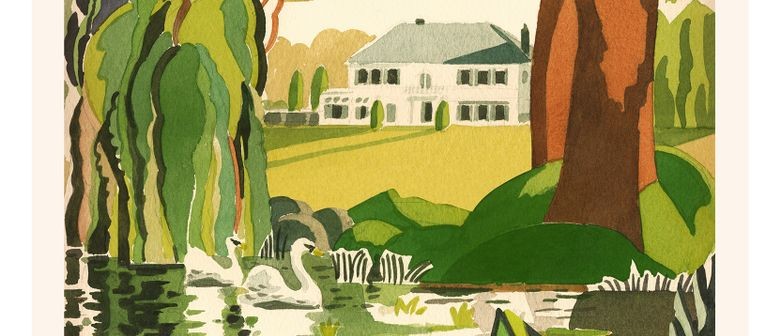 Fernside Gardens, 1407 State Highway 2, Featherston, Wairarapa
The magnificent house and gardens were developed by wealthy pastoralist Charles Elgar and his wife Ella. Tragically the first homestead burned down in 1923 and a new one in American colonial style was designed and built by Heathcote Helmore. The homestead is set at the end of a tree-lined avenue, in acres of landscaped gardens.
Wander your way through the Scented Walkway, through the Oak Cathedral, passing the Sound Shell to the stunning lake area which played a starring role as Lothlorien in several scenes in the filming of the Sir Peter Jackson's Lord of Rings. The gardens have been developed over the years in a style that reflects both English Arts and Crafts with a layout in rooms but wit with the additional touches of European and Japanese water gardens and Australian and New Zealand natives interspersed. The effect is an appealing fusion of old and new world. The current owners when they bought the property in 2007 recognised its historic importance and have dedicated themselves to the continued restoration of the gardens.
This is a rare opportunity to visit this beautiful garden and it will be a magical day out for garden enthusiasts and lovers of historical places. (The visit does not include entrance into the house). Entertainment will be provided on the Sound Shell lawn and programmed over both days. There will be an area of stalls selling quality artisan products from the South Wairarapa area. Morning and afternoon teas plus other food and refreshments will be available. We at Greytown Little Theatre plan to make this a memorable day for visitors and we are appreciative of the support to help us in our fundraising to build a new theatre for Greytown.
The tickets for this event are sold in two-hour time slots and you should arrive within the stated time period. The gardens open at 10am and close at 4pm.
The gardens are unsuitable for wheelchairs with mostly gravel paths and lawns and for safety reasons are not suitable for children under 13. Visitors should be careful of trip hazards such as tree roots. There will be plenty of rest spots and seating in the garden. No dogs permitted.
Fernside is located at, 1407 State Highway 2, Featherston. This is a busy road and when approaching from the north special care should be taken crossing the oncoming traffic. There will be road safety management signage in place for the event. Prominent signs will be located about 300 metres from the entrance to Fernside Gardens. Every effort has been made the organisers to minimise hazards and risks onsite and visitors enter the garden at their own risk. In the event of an emergency, we have first aid assistance available. We have volunteers on site who will be able to assist with general information.
Please remember to bring a hat and sunscreen as it can be very hot in the Wairarapa in February.
This event is proudly supported by The Orchards at Greytown, Lifestyle Retirement.