I was born in Wellington, the capital of New Zealand.  My earliest NZ ancestors are my great great great grandparents Abraham and Sophia Harris, from Essex, England.  They arrived in Wellington in 1840 aboard the sailing ship Bolton.
The Bolton left England in November 1839 and arrived in Wellington in April 1840.  The Harrises travelled in steerage on a one-way trip to the opposite side of the world… conditions were tough.
Their remains are buried in the cemetery at Christ Church in Taita, Lower Hutt, which Abraham, a builder's labourer, helped build.  It opened in 1854 and is the oldest church in the Wellington region.
Sophia was apparently a keen amateur botanist; she brought with her a rose cutting, which she kept alive inside a potato throughout the five-month voyage.
The Harris rose is now a distinct cultivar, and in 2014 specimens were planted in the Bolton Street Memorial Park, opposite the Bolton Hotel in Wellington city.  The street and the hotel are named after the ship.
The hotel's branding is inspired by the Harris rose.  For me the juxtaposition of our shared history and the hardships endured by the early settlers with a modern high-rise hotel complete with swimming pool, valet parking, and expensive restaurant was surreal.  I wonder what my ancestors would make of it?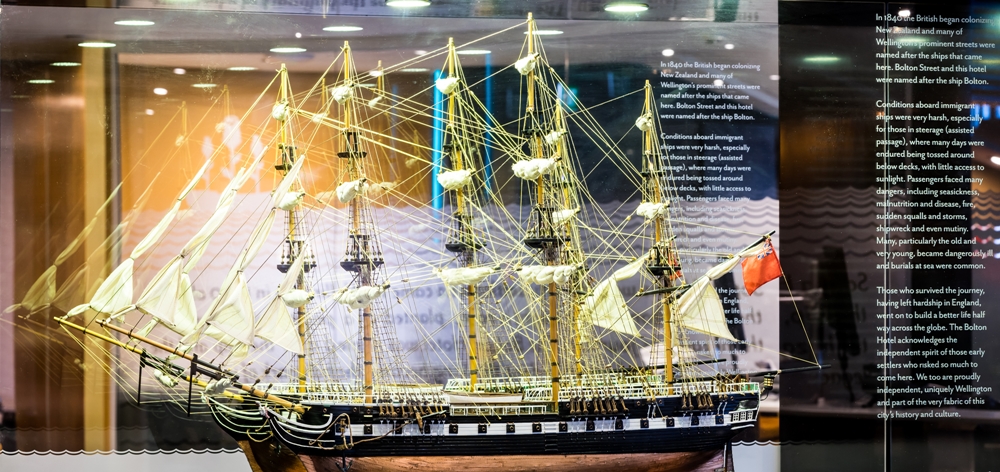 Bolton Street is a short walk from attractions including Wellington's oldest cemetery, the botanical gardens, the Beehive (NZ parliament) and the historical old government building.
Where this history fits in with the rest of this website is the way my 19th century settler ancestors have inspired some of my musical projects:
In 2006 I recorded an album South Island Sessions, and presented a Fringe Festival show The Ballad of William Knife, loosely inspired by John and Mary Edwards (my first NZ ancestors whose surname I inherited patrilineally). They arrived in Nelson in 1861 (where I was living in 2006) and later settled in the Hutt Valley.
And in 2019, a work in progress is adaptations of Poems & Lyrics by my great-great-grandfather John Collie, written in Scotland in 1856. He arrived in New Zealand in 1858 and settled in Wellington too… I was born there 120 years later.